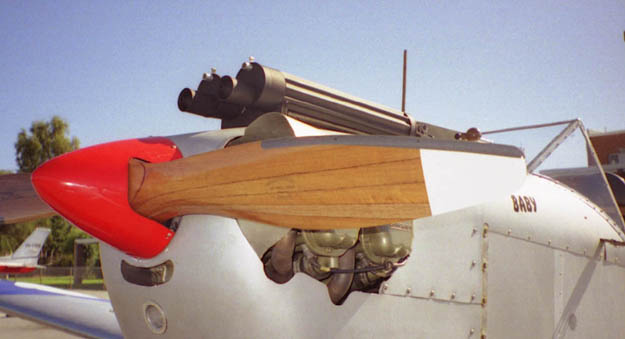 Well, if you're an aviation-unaware attendee at any Australian fly-in this silver bird attends, you might come away believing it's an obscure British fighter from the 'tween wars period.
In reality, of course, it's aviation author Bob Grimstead's take at turning a Fly Baby into a Faux Fighter. VH-YFB began life as the first Fly Baby in Oz, built by Ron MacPherson. The late Mr. MacPherson dearly loved the plane... rumor has it that the "VFB" of the registration stands for, "You F***ing Beauty."
Bob bought the plane in 2002, and started an extensive restoration, ending with the RAF paint scheme shown here. It's based out of Serpentine Airfield in Western Australia, and Bob is a member of the Sport Aircraft Builder's Club based out of that field. The SABC has a bunch more pictures of Bob's bird on their Web Page.
Bob has developed other aviation interests at the airport, and to keep the dust from settling on YFB, he recently sold a half-interest in the plane to his friend, Rick Verwoord. Rick's building an
RV-7. Rick is an airline pilot with over 15,000 hours, but he knew a 747 was no trainer for a Fly Baby. The conversion process started with about ten hours of dual in a Maule, plus a couple more in a Dehavilland Chipmunk.
"I suggested he fly off our grass runway first, says Bob. "Our Fly Baby has a massive, 100 hp O-200, so Rick had some trouble staying straight, but hauled it off the ground OK. Same thing when he flew off the bitumen runway yesterday, but he got it sorted quicker. Rick has now made three flights, and is starting to develop the Fly Baby Grin."
Bob has only one drawback, from my point of view: He keeps sending me absolutely gorgeous pictures of his airplane, and I have to decide which few to put on display.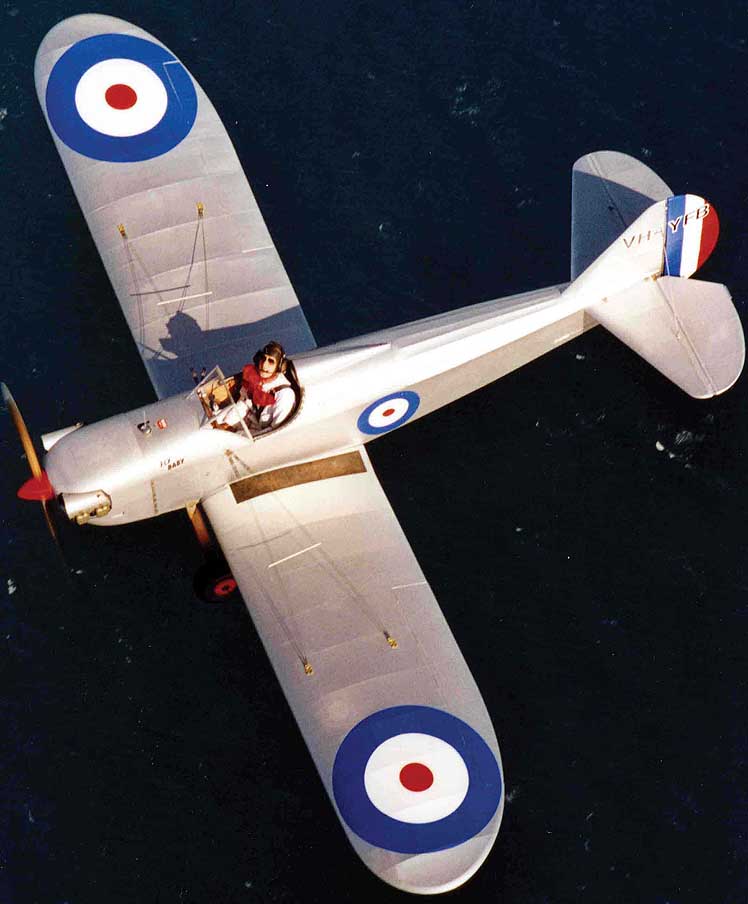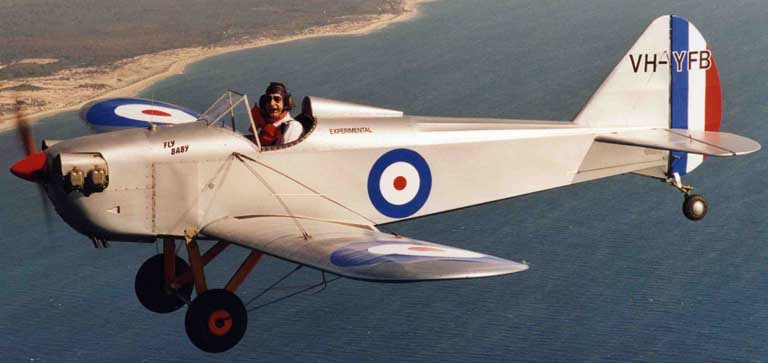 The Original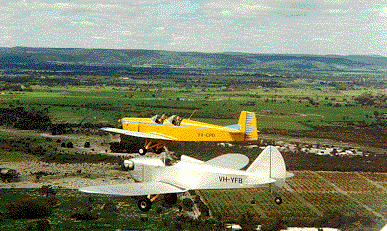 In memory of Ron MacPherson, here's the plane in formation with a Druine Turbi. This was one of the first photos added to the Fly Baby web page, over ten years ago.
---
Comments? Contact