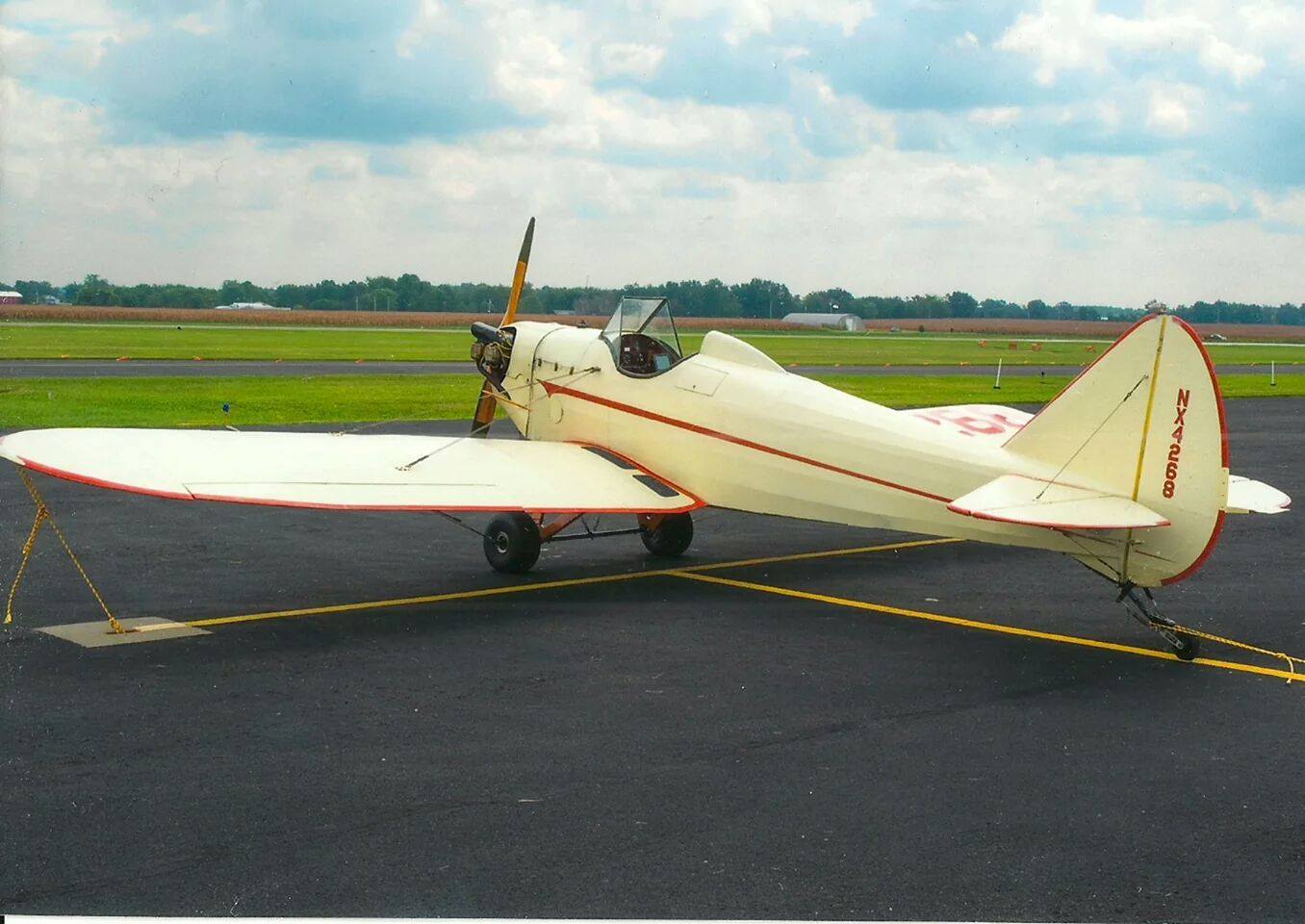 Day1: My planned flight from St. Louis to the Canadian Border began with the 50 minute drive to the Sullivan (KUUV) airport. I landed at Marshall (KMHL) for fuel, one of the early TWA cross-country stops. The old FBO with its ancient waiting room and old style chairs (Lindbergh sat there!) had been ripped out and modernized. Next door, the Nicholas Beazley Aviation Museum is well worth a visit.


After fueling it was off again to Maryville, MO (KEVU.) But upon arriving, I found the dreaded yellow X at each end. (NOTAMs, I don't need no stinking NOTAMs).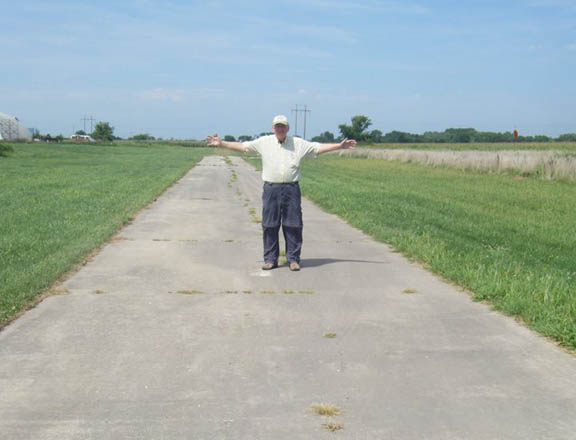 Maryville's other airport, Rankin (78Y) was seven miles away, but a challenge. A 25 ft wide runway with power lines on the approach end. Going over the power lines put me too high, but pulling the power on a Fly Baby was as good as having flaps or putting it in a slip to lose altitude without gaining speed. Power back on at the right height, 1500 rpm on the throttle, 75 mph decreasing to 65 mph as I touched down, and it stuck right in the center of the runway and stayed there.

No fuel at Rankin, but I borrowed a 5 gal lawn mower fuel can and made two trips to Maryville where the fuel pumps worked even with the runway out of commission. I'd used 8 of the 12 gallons, so I could have diverted farther north, but I wanted to land in Maryville to be at a pep rally for my grandson who is in the Junior varsity football team.

So the Rankin landing ends day one (Thursday) of my planned Fly Baby flight to the Canadian border.
______________________________________
Day 2: How do you get self service fuel when you can't read the display? On my second day of my planned flight from St. Louis to Canadian border, in addition to some great flying, I also had a few wrinkles. My route would follow the Missouri River for a ways and then along the 97th Longitude Line. After take off from Rankin (78Y) near Maryville, MO, I headed north. I aimed for Nebraska City and then crossed the River Platt -- a mile wide, an inch deep --and landed at Plattsmouth (KPMV), Nebraska, for fuel.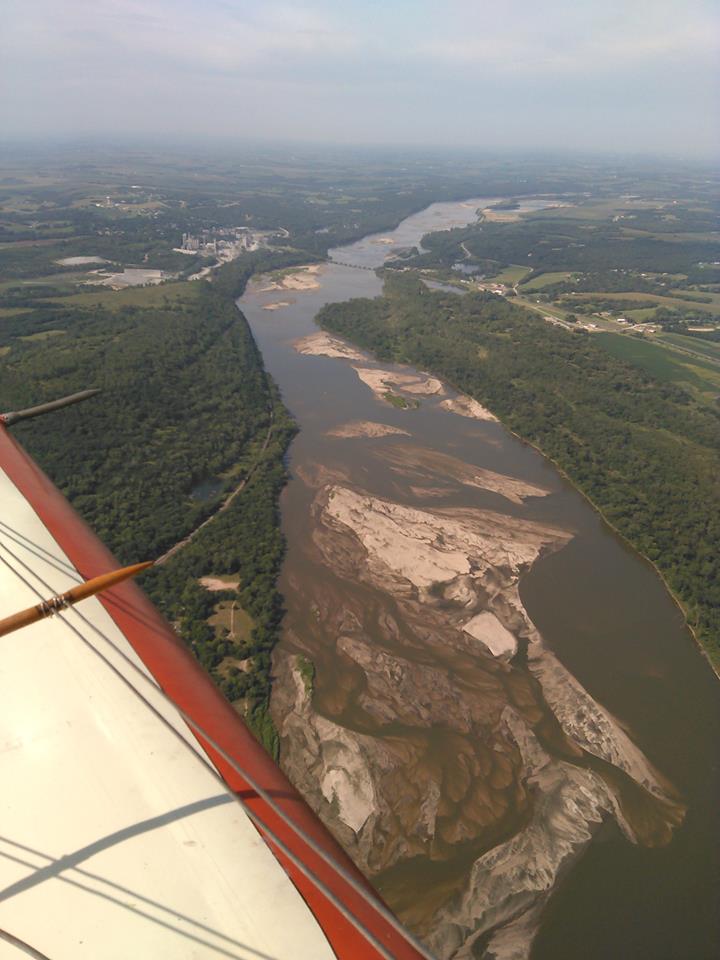 Next stop was Tekamah, Nebraska (KTQE) for fuel. All right, this was a puzzle. The self service pump had a tiny one line window that faced the sun, and it was so weather beaten that I couldn't read the display. After several attempts, who knows what I agreed to, a local pilot helped. He couldn't read the display either, but he knew the order of the questions, and I merely pressed the buttons to answer the questions that he recited. It worked! I resolved that if I came back this way, I'd not land at Tekamah.
My GPS was a Nexus 7 inch with Avare, but I also carried strips of Sectionals. While in the air and looking at this leg of the flight, the paper exited the plane. Oh, well.
On to Vermillion (KVMR), just barely in South Dakota across the Missouri River. Denny Martens met me at the fuel pump and helped me fuel up. He offered to shoe-horn the Fly Baby into a hangar with a twin, and I decided to call it a day. He did get it in the nearly full hangar, somehow passing the tail, ruder, elevator and cables through the three bladed prop of the twin. Then we went around to his insulated, air conditioned, and carpeted! hangar. He had a pristine 1956 C-172. Absolutely perfect with original equipment. Sitting beside it was his Mustang. Beautiful and fun, including happy face tennis balls on the exhaust pipes.
Before the flight I'd gotten the rudder trim essentially perfect, and I'd tightened the aft flying wires on the left wing to take out a heavy wing so it flew wings level. But the elevator still needed some work. I was putting in a lot more back stick than I wanted. I tweaked the trim tab at Vermillion, and looked forward to the next morning flight to see how it flew.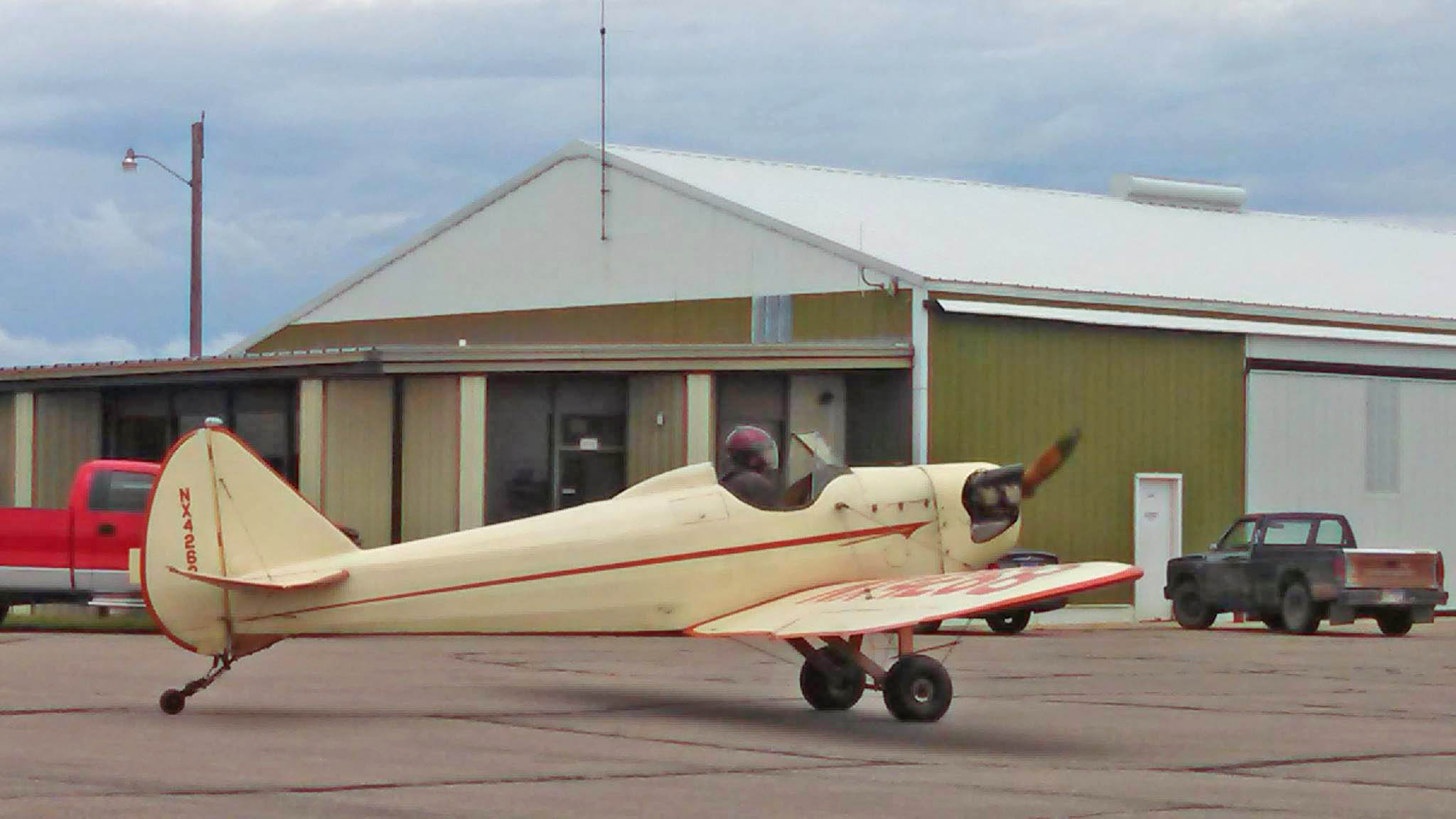 ---
Saturday, Day 3. The day began cold, wet, and windy. Cold and wet should change to warm and dry, but the windy would stay in effect all day long. Grounded. I checked with Denny if the Fly Baby could share the hangar with the twin one more day. Yes, and he also gave me the code to the gate and to the hangar. I looked Fly Baby over and found the hose for carb heat had come off. A long bladed screw driver fixed that.
The Fly Baby is not an all weather machine. I built in weather delays in my flight planning. Rather than sitting at the FBO and staring at the clouds or wind sock, I walked a nearby trail, and traveled to Yankton for a River Festival with a parade through town, and a multitude of vendors along the Missouri River front. Today was move-in day at the U of Nebraska at Vermillion, and there was a lot going on there, too. Parents delivering students, clothing, supplies, and furnishings. Also, Vermillion had some outstanding restaurants, and I'd eaten at the Red Steakhouse last night and Cafe Brule today. Extremely packed with customers because of the college crowd -- one last time for the students to eat well and put it on their parent's charge card.
I continued to think about the elevator trim. The elevator has a lot of authority, and even the slightest movement of the trim seems to make a big change, too. I'd started out needing forward stick; the change at Rankin had caused it to need aft stick, which meant I put in too much up trim at Rankin, so I need to take some out. That's what I did last night after landing. Up trim gives down elevator which raises the tail and pitches the nose down, causing an aft stick for level flight. Right? Thinking about it makes my head hurt. Take two aspirin and plan on flying tomorrow morning.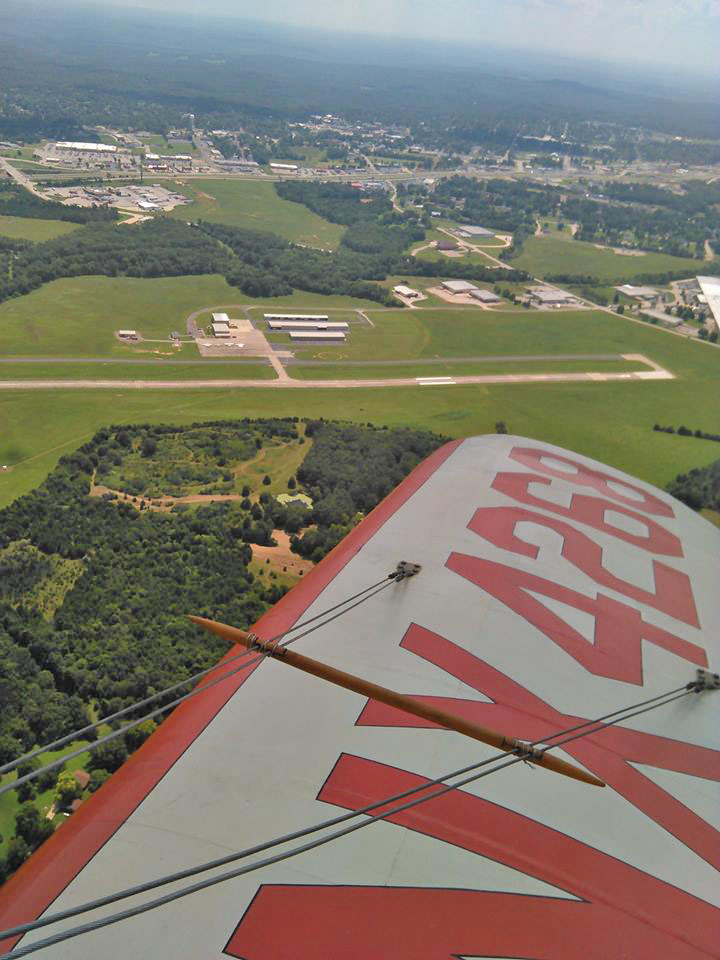 ---
Sunday Day 4 of the planned trip to the Canadian border. Good day for flying. Extricated the tail of the Fly Baby from the three bladed prop of the twin, and took off from Vermillion at 7:44 for Tea (Y14, Skye-Lincoln) just south of Sioux Falls. However, within a few minutes I realized a tailwind was helping me along. I could easily make Brookings (KBKX). I still didn't have the elevator trim right. Maybe I was getting confused. I got out my notebook and wrote down exactly what I was experiencing, and then I would think about it on the ground.
At Brookings, South Dakota, a line boy met the plane at the pump. While I extricated myself from the cockpit, he hooked up the static line, ran my credit card, rolled out the fuel line and handed me the pump handle. I stood on the wing and fueled the plane. Fueling it myself is my usual practice even with full service. The filler neck is much to weak to take the full weight of handle and hose, yet some inexperience line personnel will let it rest on the neck. It only took 6.8 gallons, but I'm more comfortable with a stop every hour and a half.
I sat down in the FBO and thought hard about the elevator trim. I decided to make a slight down bend on the trim tab, it was still up but not by as much.
I left Brookings at 9:46. Hallelujah! My most recent adjustment of the elevator trim tab had done the magic. The Fly Baby flew straight and level hands and feet free. After five minutes, it needed only a tweak to keep it on course. It was beautiful weather, calm air, clear skies, interesting country side and fun flying.
I'd planned on landing at Watertown (KATY), South Dakota, but once again skipped it for Sisseton (8D3). Sisseton has a turf runway, which aligned good with the wind, so Fly Baby got a grass landing. I made Sisseton my lunch stop. Nothing says fun better than a banana split at Dairy Queen.
I took off again for Kindred, North Dakota (K74). I made the radio calls at 10 miles, four miles, and then crossed mid-field to check the wind sock. Well, whatta'ya know, two yellow Xs marked each end of the runway. Second time a field has been closed on this flight. Kindred is south of Fargo, and there were a lot of other airports to choose from. I landed at Moorhead (KJKJ), Minnesota. After fueling, I checked out the FBO and found some big pastries and wrapped one and put it under my coat. Took off at 3:00, and ate the pastry in the air.
Next stop Crookston (KCKN), Minnesota. It was a really impressive airport. Not one, but two well manicured turf runways, 6/24 and 17/35, and a paved one, 13/31. I landed on 17 at 4:24 for my last stop of the day.
Tomorrow on to the Canadian border! (If the weather cooperates.)
Minnesota is the land of 10,000 lakes. But I think this photo was taken while I was still over North Dakota. The inset shows a farm house protected from cold wind by trees on the north and west side.
(RJW note: These are called "Shelter Belts," most were planted during the "Dust Bowl" era. They not only protect the farmstead from the wind, but help stabilize the soil.)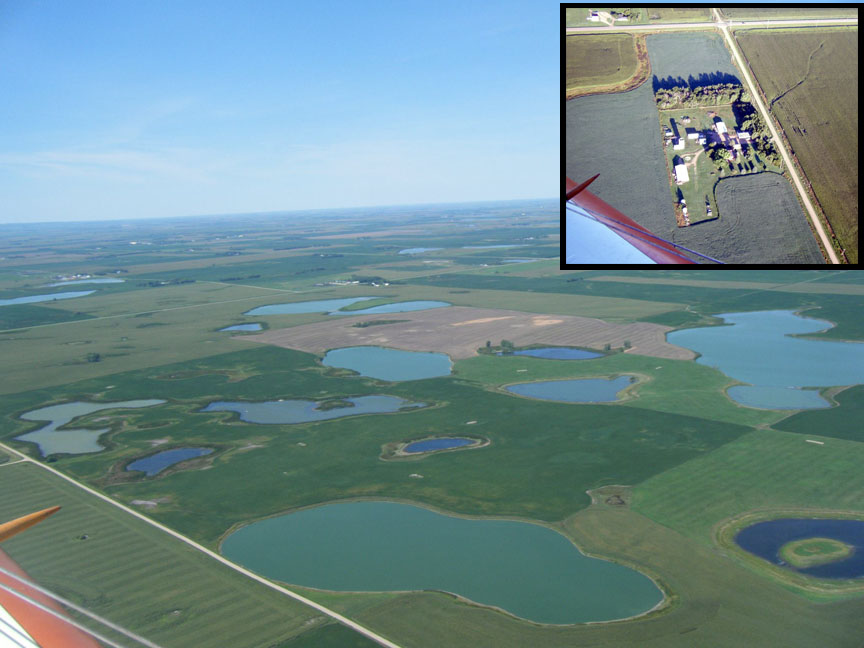 ---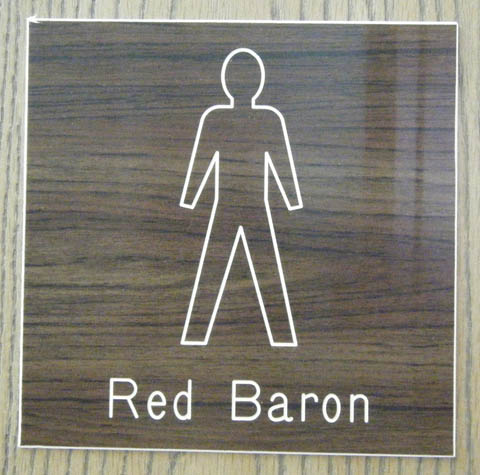 Day 5 Monday:. The weather did cooperate. I took off on Rwy 17 from Crookston at 8:25 and decided to stop at Grafton (KGAF), ND for self-service fuel. It was my first North Dakota airport landing. On the way up, I'd intended to land at Kindred, but it was closed, so I'd landed at Moorhead, which is in Minnesota, and so is Crookston. Grafton had an interesting restroom identifier.
I wasn't certain I'd land at Pembina (KPMB). If the wind didn't favor a landing, and if I couldn't see any evidence of fuel, I might end up only circling it. I did circle both the airport, the city, and got as close to US-Canadian border as I dared. I decided I would land.
I did see a fuel truck, and what I could tell from the wind sock, the landing would be doable. I would have a headwind going back. It would be a good idea to top off at Pembina to get back to Crookston.
I landed, walked into what turned out to be a package delivery office and asked about fuel. The clerk, a woman, called for the truck to be pulled around, the driver stayed in the truck, and the office clerk, who limped wearing a knee brace, pulled out the static line, unwound the fuel hose and gave me the fuel handle. Fly Baby held only 3.3 gallons. I prefer to use self serve because I hesitate to have a fuel truck and others do so much work for such little amount of gas. But she didn't seem to mind.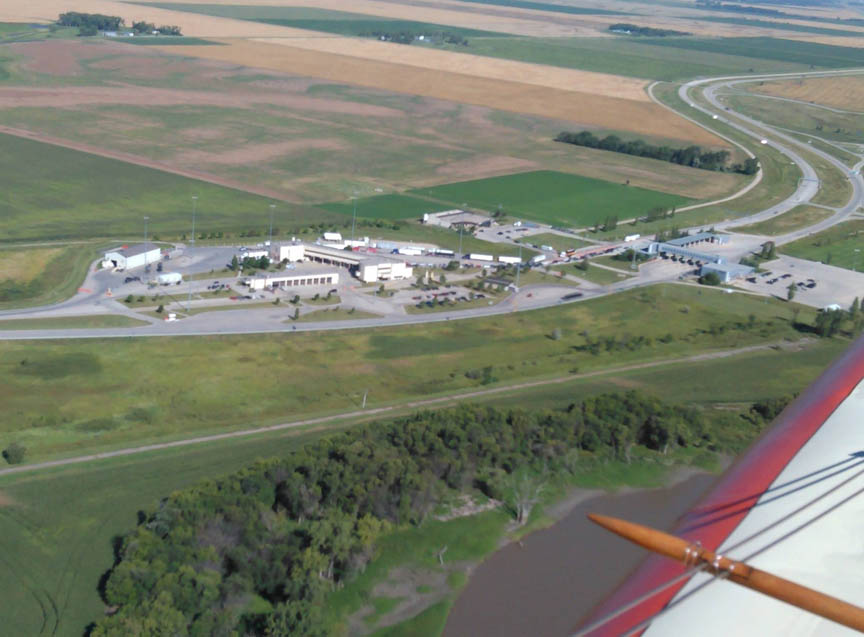 I looked around for a background that said Pembina to photograph the Fly Baby against, but couldn't find anything. The only proof I'd been there was the writing on top of the fuel receipt.
I took off at 10:50 and returned to Crookston. The return flight took 7.1 gallons, so if I'd not gotten fuel at Pembina, I'd been into the reserve.
OK, mission accomplished. Now to get back to Sullivan Missouri. I checked the predicted weather. No clouds for tomorrow, but the wind would start at 17 mph and go higher as the day progressed. Well . . . .
---
Day 6 Tuesday: Time to start back to Sullivan, MO. The wind Tuesday morning was 170@17. Crookston had a runway 17, perfectly aligned with the headwind, and airports south also had runways nearly on the same heading: Hawley 16/34; Detroit Lakes 17/35; Sisseton 16/32, Watertown 17/35.
I got up before sunrise, had a hotel breakfast, and took off into the 17 knot "breeze." Wow! Even a slight terrain irregularity made a rocky mountain wave. I bounced my way up and settled into level flight. My groundspeed was 44 mph, dropping to 32 mph on occasion. Even if I didn't run out of fuel, I'd die of old age before getting to the next airport.
Time to turn around and go back to Crookston. They say more mountain climbers are killed going down the mountain than going up. Of course they are. When they find themselves in trouble, they start back down the mountain. Like pilots who venture out and then have to turn back. The landing at Crookston, however, on that nice, wide turf runway was easy. The wind was predicted to increase throughout the day, and Wednesday it would be above 30 mph, and still strong on Thursday, and then bad weather would move in, and then probably begin getting cold . . . what kind of winter does Minnesota have?
The photo shows the Red Lake River (tributary of the Red River) rapids in Crookston. I'd noticed that in North Dakota and upper Minnesota the airport elevations had been going down -- which explains why the rivers up there run north. Being a cartographer for 20 years, I tend to think about such things.