Fly Babies and Goodies For Sale (Or Free Download!)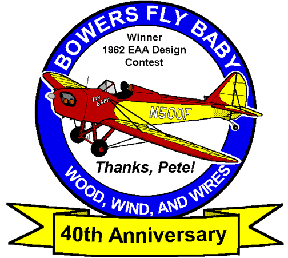 Updated 13 June 2019

---

Airplanes And Projects
Flying Aircraft For sale
Flying Aircraft Wanted
Projects, Engines, Components for Sale
Projects Wanted

Note: A number of these listings are pretty old. No telling if the item is still available....I usually wait to hear from the owner to remove the ad.

Flying Aircraft
This is offered as a general service, no assessment of value or quality should be assumed from being listed here. Please notify me when the item is no longer current. The dates in brackets are the dates the information was added to the page.

See my Buying Used Fly Babies page for what to look for, when evaluating a flying aircraft.

-----------------------------------------
For Sale
----------------------------------------
Wanted
---
Projects, Engines, and Components
Jim Thomas has a project for sale. Spars are finishes, the ribs all cut and ready to assemble wings. Compression struts are fabricated. The fuselage box is assembled and the landing gear legs are are made. Have some spare wood and miscellaneous spare rib pieces. Because of the size of the spars it would be difficult to ship so you'll have to work that out with Jim. Asking $900.00 OBO. He's in Tucson, AZ. Phone is 727 470 8252 email jimthomas737@icloud.com. [Sept 2019.]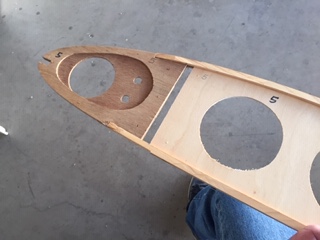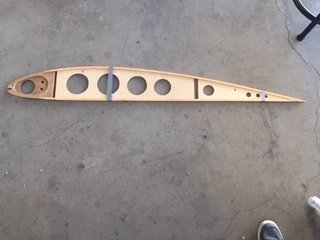 Dave Fliehr has a project for sale. He has completed the fuselage to include gear, electrical system, instruments, etc. The sale includes the builders manual, all instruments, much of the material for the wings, and the landing gear to include brake system. He's looking for best offer. The project is in Grant's Pass, Oregon. Contact Dave at (541) 471-6012; leave a message if he doesn't pick up. [October 2015]



Brent Matheson has a partially (mostly)-completed Fly Baby for sale. It's pretty much finished, except for the covering, and he has the ceconite fabric and five gallons of dope along with the other covering supplies. The Flybaby is fitted with an A-65 Continental engine which he bought as a run-out and then rebuilt. He's located in Balsam Lake, WI, which is about 60 miles east of Minneapolis, MN. He's looking for about $4,000. bvm1@live.com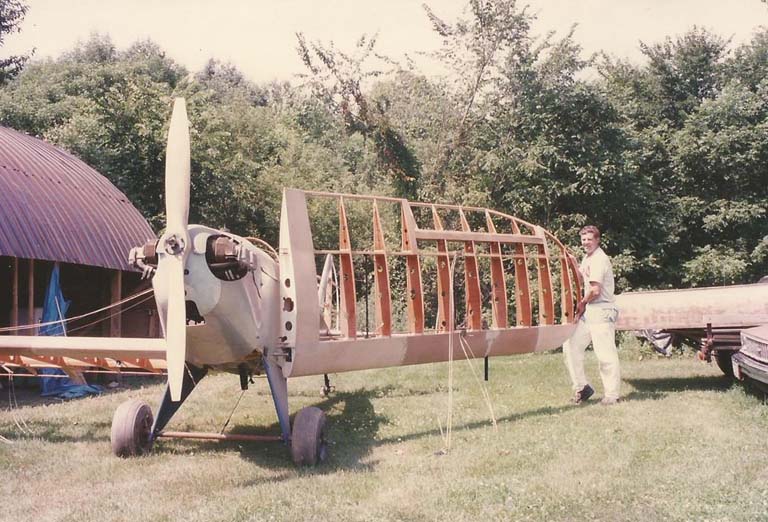 Components or Projects Wanted
---
Fly Baby Goodies
Roscoe Patches
With Jeff Patnaude's permission, we took his flying baby artwork and turned it into a fantastic jacket patch. We've named the baby "Roscoe" after famed 1930s pilot Roscoe Turner, hence the term "Roscoe Patch". "Roscoe" was designed for Jeff by Pat Moriarity.

Be advised: This not your wimpy little 3" shoulder patch. The goal was to duplicate the look of the squadrom patches worn on WWII flying jackets. This patch is a big, bold, five inches in diameter...it's larger than the palm of your hand.

Years ago, I showed Pete Bowers the nose art on my airplane, which was cribbed from a "Far Side" cartoon. Pete said he liked it because it included the original "Fly Baby" lettering/nose art from N500F. Hence, the new patch shows Roscoe atop the same yellow lettering on the red background, just like Pete had on the original plane.

Unfortunately, I'm currently out of stock. Hope to have more by mid-April 2023.

Roscoe Nose-Art Stickers
It's been a long-time tradition for aircraft to carry nose art, and Roscoe is as worthy as they come. When Hans Tiejgeler bought his Fly Baby in mid-2014, he wanted some big 'ol Roscoes on his plane.

Print shops being what they are, it cost about the same for Hans to print up a couple dozen as for just a couple. I bought his extra, and now you can proudly plaster Roscoe over whatever surfaces you want...nose, tail, rear hatch of the wife's SUV, whatever.

There are two sizes: One is about 14 inches long, and the other is about seven. They're both the peel-and-stick kind, with existing scoring around the black outline of the image (so you attach just Roscoe, not the white paper surrounding). I don't have a "left hand" image...so Roscoe will have to be flying backwards on the left side of the plane. That is *so* like him.....

The price, including postage, is $8 for the small ones ($12 for a pair), or $15 for the big ones ($25 for a pair). Email me at ron@wanttaja.com if you're interested.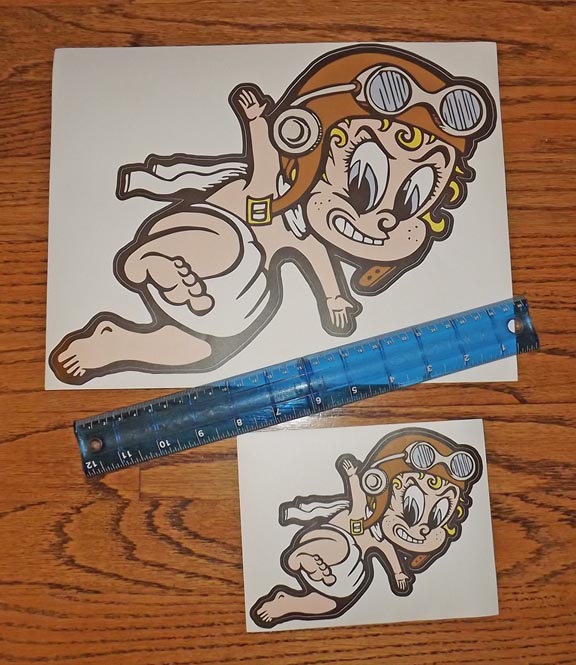 ---
Do-It-Yourself T-Shirts
The images that follow were the candidates for the Logo contest. With an ink-jet printer, you can make use these images to make iron-on transfers for your own T-Shirts. Right-click on the title of the images you want, and select "Save Target As" or "Save Image As" (depends on your browser). Or you can click on the image itself, and then right-click it and select "save picture." The images range from 150K to 800K in size.

These images are mirrored since that's how you print on the T-shirt transfer material. The material can be found at nearly any office supply store (Office Depot, Stapes, Office Max, etc.). I'd buy a pack of three T-shirts and count on wasting at least one on the first try.


This was the winner of the contest...and Mr. Bowers' favorite, as well




The formation contains a wide variety of Fly Baby variants, from the original prototype, to a biplane, to a plane with closed cowling and bubble canopy, and a Fly Baby floatplane. All the depictions are based on real Fly Babies, although the one shown on floats has never had floats installed. Some say this image isn't as dramatic as a T-Shirt since there's a lot of open white space in the image.
Frenchman Jean-Pierre Nugyen's entry into the Fly Baby contest.
A combination of several ideas....

---
Do-It-Yourself Fly Baby Art
Craig Goodwin developed some artwork for using a laser to show the Fly Baby silhouette and logo on his baggage door: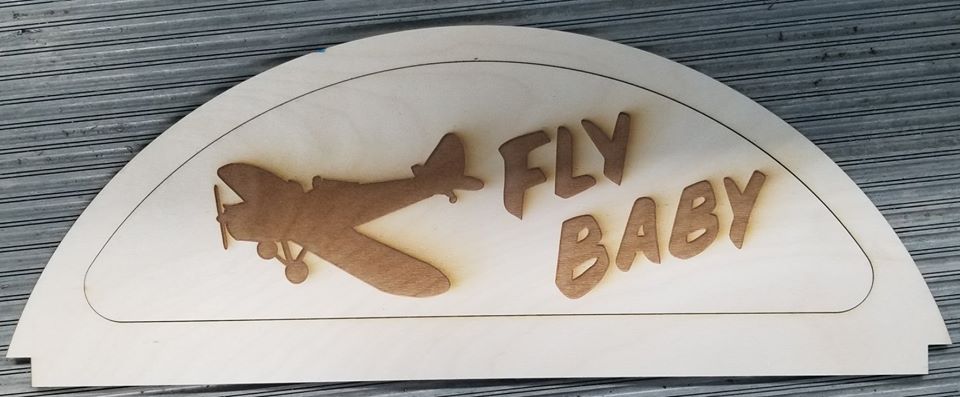 Andrew Armstrong took Craig's artwork and split it into separate files to make cling-film images for windows (and other uses).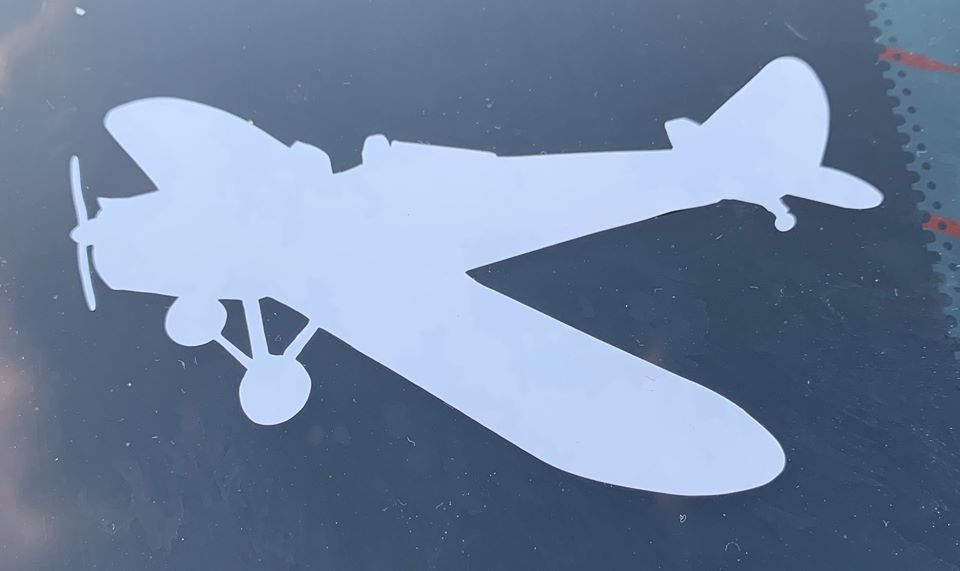 All the files are in this single ZIP File. The ".AI" file is Craig's original, and the SVG files have each of the elements separate to have the outlines made.

---
Other Fly Baby Stuff
I'm sorry, but this site tickles me so much I have to include it. Back in the "good old days," aviators of less-than-perfect vision could get prescription flying goggles . Looks like we STILL can, 'cept they're mostly meant for the motorcycle crowd.

---------------------------------------------
Available: Reprints of The Fly Baby Bulletin
Back in the late '60s, Hayden Ferguson published a newsletter for Fly Baby builders. Hayden has kindly provided me with a clean copy of all the newsletters, and permission to reprint them.

This are of pretty good interest to Fly Baby builders. There are a number of hints and suggestions, and a total of 200 pages (printed double-sided, so there are only 100 sheets). Be advised there is an equal amount of "What Joe Smith is working on now" sort of information...vital and informative when the newsletter is mailed out, but of less use to builders thirty years later. It's fun to read, though.

Anyway, I ran some copies for the Fly Baby mailing list members, and have about five left. I'm selling these for $20, US Postage paid. Email me for ordering information.

These the bulletins are also available for free download. A few hard copies are still available. If you prefer, I'll send you a CD with all the content for $5 (postpaid).

---

Questions? Email Ron Wanttaja .

Return to The Fly Baby Main Page