Fly Baby Drawings and Nose Art

Most of the time, I deal with photos. Occasionally I grab my mouse and draw a Fly Baby to illustrate some point or the other. And, occasionally, some beautiful Fly Baby artwork just drops in my lap.
That's what this page is all about. You can see my fun digitally-modified Fly Baby pictures on the Altered States page. This page is for original artwork that shows...or graces... the Bowers Fly Baby homebuilt airplane.
There are three basic categories here. The first, Original Artwork, is for showing freehand drawings and paintings of Fly Babies at repose or in action. The second, Nose Art, is for those Fly Baby owners who proudly display some sort of artwork...be it comical or serious...on their aircraft. The third, Miscellaneous, is for those illustrations that otherwise defy categorization.
---
Original Artwork
Bill Brandt
Merchant of Glenorchy
Colin Pattle
Leslie Allen
Hans Teijgeler
Bill Brandt
I've got a friend on Colorado who practices the fine old art of written communications. No email, no fax, no typewriter, just old-fashioned US Mail written in what they used to call a "fine copperplate hand." Bill Brandt's handwriting is a treasure in itself.
When I got my second or third letter from Bill, I noted that there was an airplane on the envelope. But it didn't really register; I just tore open the envelope to read what he had to say.
When I got done, I folded the letter to return it to the envelope. Then I saw it. That "little airplane sketch" I'd casually noted on the cover was a watercolor painting. Of my own Fly Baby, Moonraker, flying over a fog-shrouded forested hilltop.
Needless to say, I darn near flipped. I can't draw a straight line with a ruler. Any drawing I do, I do it on the computer, where I can easily reposition lines and redo things. But Bill had made a freehand drawing of my airplane and added watercolors, freehand, on a business-sized envelope.
With Bill's permission, I've reproduced the images below. Keep in mind that this is an enlarged version of the drawing The actual airplane on the envelope is less than two inches (5 cm) across. Unfortunately, the scanner loses some of the fine detail, but I think it's still pretty impressive...
Moonraker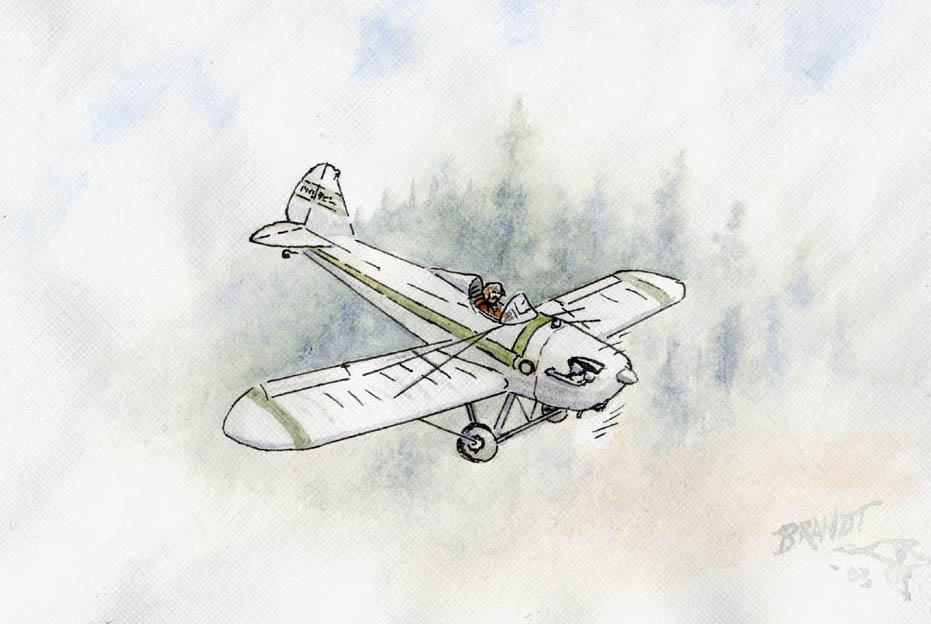 N500F
This one is the Fly Baby prototype, N500F. His letter says, 'OK, I messed up royally...it's a mixture!", because the perspective on the tail is different from the rest of the airplane. But it's still got the same class as the first one. Again, the actual image is on an envelope, with the airplane just a couple of inches across.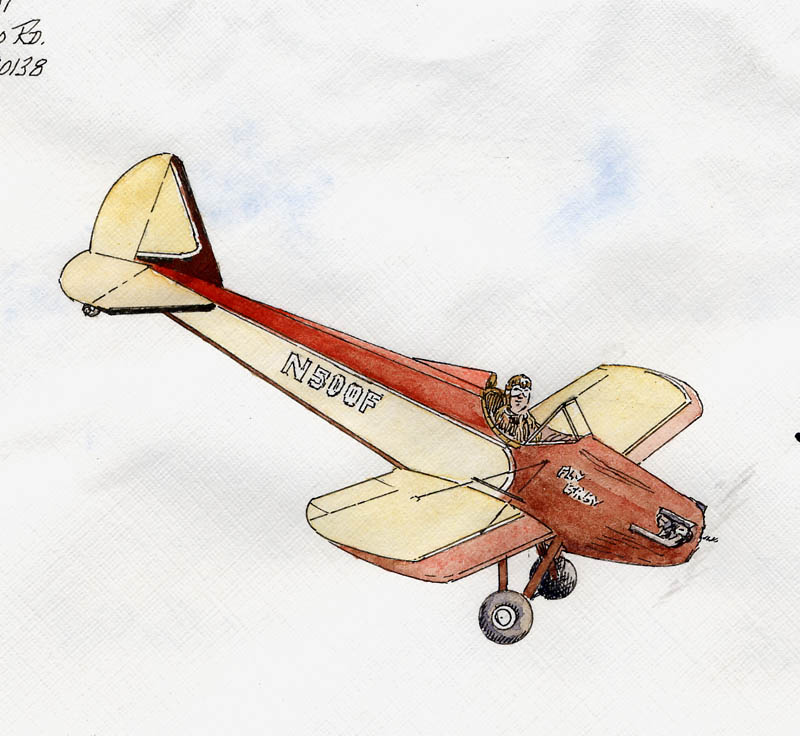 Sampson's 'Baby at Brodhead
The is the Fly Baby build by Ed Sampson of Bellevue, Minnesota. It's shown on the grounds of the airport at Brodhead Wisconsin, home of the annual Pietenpol fly-in.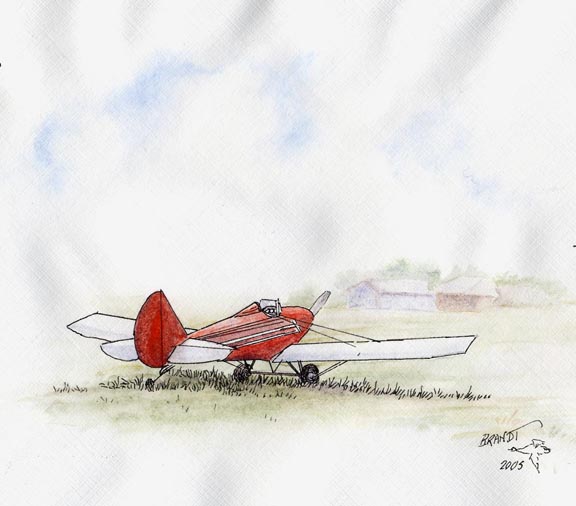 Colin Pattle
Over 30 years ago, Tom Staples commissioned Colin Pattle to paint a picture of his Fly Baby. It's a stunner!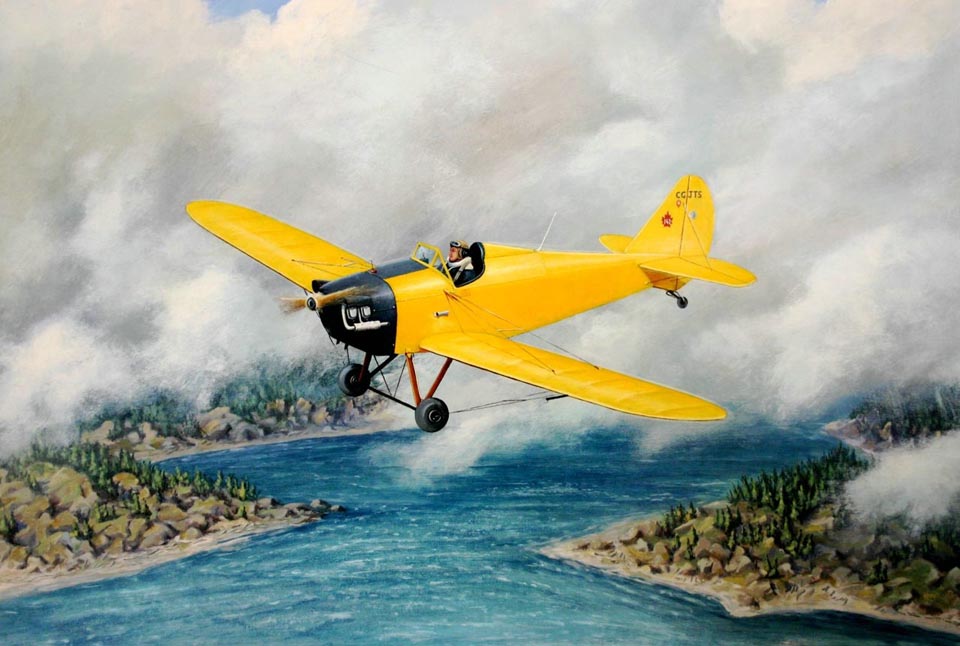 Leslie Allen
A California artist, Leslie Allen, had been searching online for a historic barnstorming biplane for a landscape she was painting for a contest. Couldn't find the right image of a Jenny, Waco, etc, but she found a picture of Al Hatz' biplane and that worked fine.


The landscape is a cattle ranch in western Marin County, that runs downslope almost to Tomales Bay, just north of the small town of Pt. Reyes Station. A local landmark, Black Mountain, is at the top.

Hans Teijgeler
All right, I get it: This is not "artwork" as in a painting, it is a photograph. But you have to admit... it's a real stunning photograph.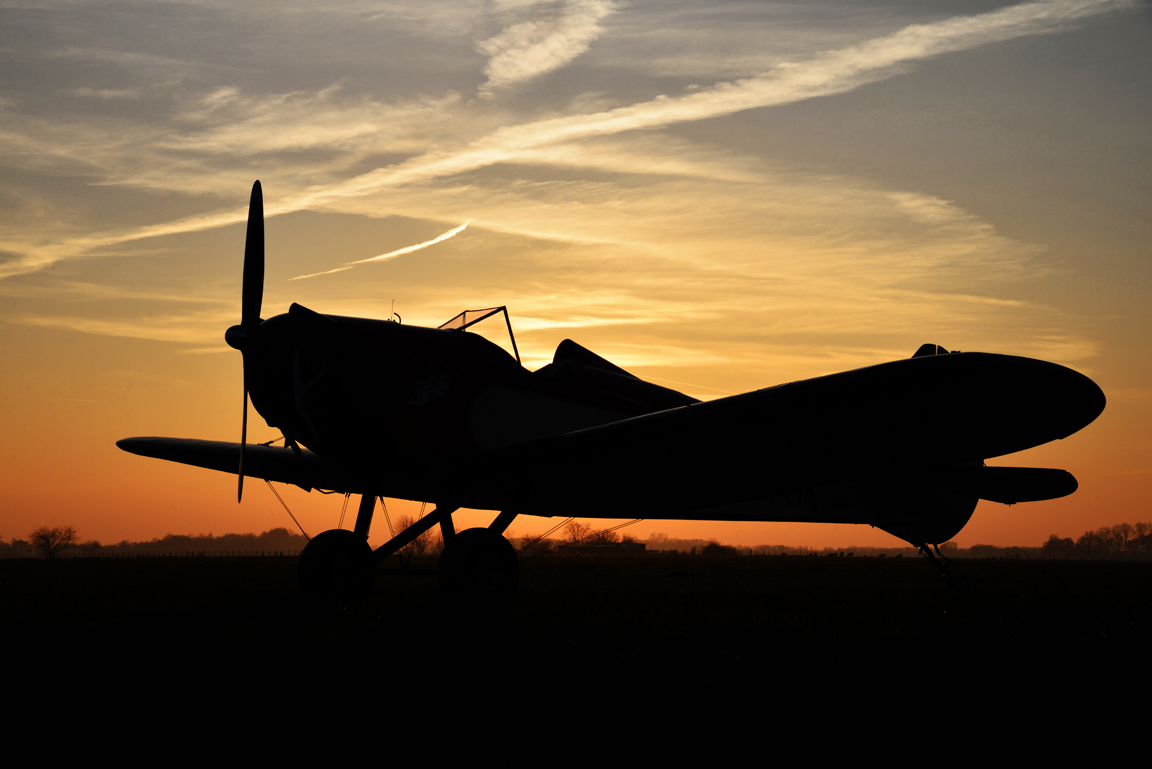 Merchant of Glenorchy
Brian Sharpe started online aviation collectables business called the Merchant of Glenorchy. One of his products is a silk aviator scarf. He was looking for a good photo of one being worn in flight when he found one of Bob Grimstead's photos on the Fly Baby scarves web page. With Bob's permission, Brian's son turned the photo into an art deco-like poster.
---
Nose Art
I'm a real fan of the old-time "Nose Art" on aircraft. It's a phenomenon mostly associated with warbirds, but civilian pilots have been putting mascots, slogans, or cartoons on their planes for nearly as long. Whenever I go to a Fly-In, I end up taking LOTS of pictures of homebuilts with nose art.

I've got nose art on my Fly Baby, and I'm trying to encourage other Fly Baby owners to add some, as well. If you've got artwork on your Fly Baby, email me. I'd love to add pictures of it to this web page. I'll also be happy to include photos of any names applied to Fly Babies....
Jeff Patnaude
Jeff bought his airplane in late 2003. Like most Fly Baby owners, he fell in love with it. Unlike most Fly Baby owners, he took the unusual step of writing an article about his airplane...which was published in both SOUTHERN AVIATOR and GENERAL AVIATION NEWS magazine...but he put some original nose art on his airplane, too. He gave some ideas to an artist friend of his, Pat Moriarity, and here's the result: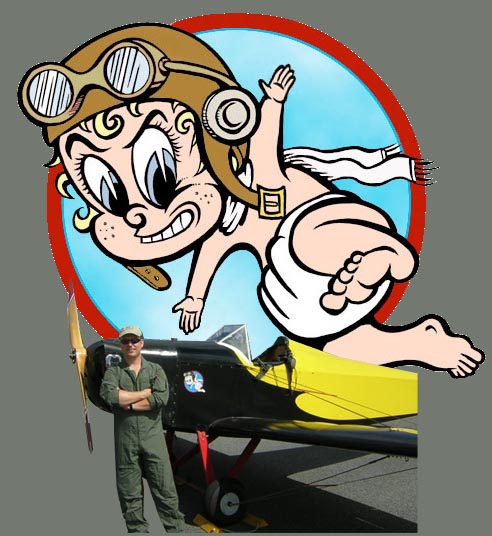 Jeff Patnaude, Artwork by Pat Moriarity


Jeff and Pat gave us permission to have flying jacket patches made... see the For Sale page. Pat receives a 50-cent royalty on each patch.

Moonraker
As you can probably guess from the above writeup, I just had to put a bit of nose art on my airplane. When I bought the plane, it had two cut-out greeting cards glued into the painted circles on either side of the forward fuselage. The greeting cards reproduced one of Gary Larson's "The Far Side" cartoons...the one with two airline pilots sitting on the back of an enormous baby lying a runway, with a control tower in the background. One of the pilots is saying "Magnetos...check! Radios...Check! OK, let's get this baby off the ground...."

I had planned to add the name "Moonraker" to my plane, and did some sketching of some appropriate nose art to go along with the name. But then, I started taking the plane to Fly-Ins. I noticed a lot of parents bringing their toddlers up to the nose of the airplane, showing them the cartoon, and saying, "Look, there's a baby on the plane!"

I got to liking that. So...I kept the Far Side cartoons.

But a year or so later, I had a problem. The previous owner had glued the images to the plane. The glue had turned loose, and one of the drawings was long gone. The other had been in the sun and weather too long, and was greatly faded. It was time to replace the artwork.

Instead of finding two new greeting cards, I decided to try convert the one existing drawing to a digital drawing. That let me "heavy-up" the lines, and add some bolder color. It also let me delete one of the two airline pilots on the Baby...after all, it's a single-seat airplane. Instead of retaining the runway and control tower, I decided to depict the Baby in flight...all it took was the elimination of the background, and a bit of a tilt to suggest motion. Here's the result: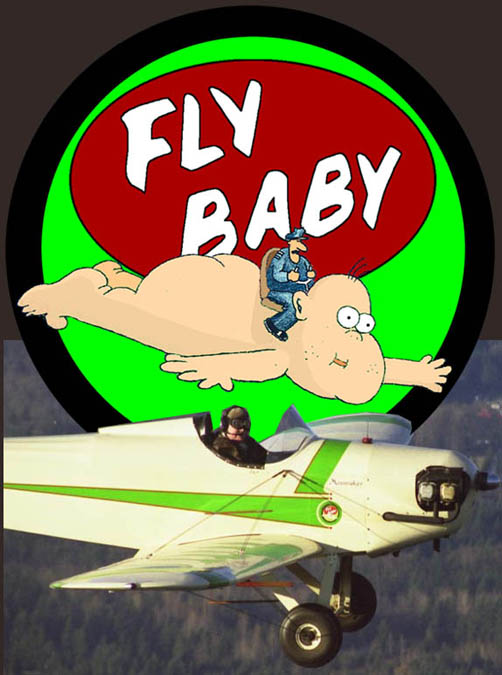 Photo by Ed Wischmeyer, Main artwork taken from Gary Larson cartoon
Rennate Reeves
Rennate Reeves is South African, and recently completed her Lycoming O-235-powered machine. I get a kick out of the name she applied to her airplane...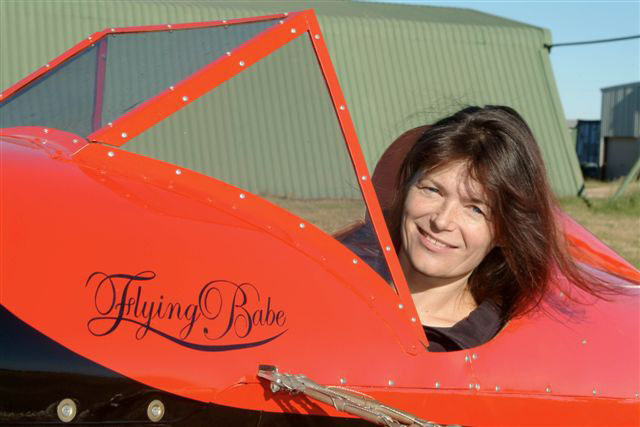 Photo by Doug Reeves

---
Poetry
There have been a couple of folks who have sent some nice Fly Baby-related poem, over the years.
Wendell Davenport is a dedicated Fly Baby pilot. A couple of years back, he figured age had finally caught up with him and it was time to sell his beloved Fly Baby. But he missed it so much that a year or so later, he bought another one. A POEM FOR OLD TAIL DRAGGER PILOTS helps to explain why....
Robert Gellock's friend Lowell Holschwandner built himself a Fly Baby over a four-year period, because HE WANTED TO FLY.

---
Miscellaneous
Jean-Pierre Nugyen
A few years back, we had a competition for a logo for the Fly Baby 40th anniversary. Jean-Pierre submitted this head-on caricature of the Fly Baby. With my lack of artistic ability, I really appreciate someone like Jean-Pierre who can capture the "essence" of an object. He makes the plane look like fun, while emphasizing some of its most prominent features.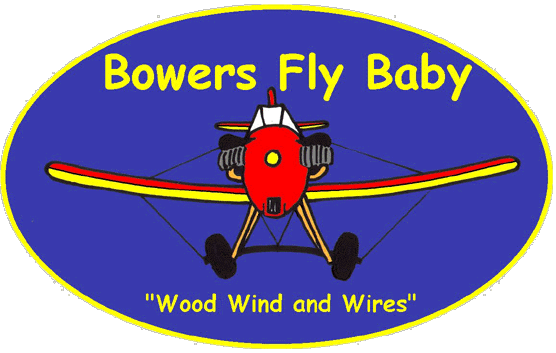 Jean-Pierre Nugyen
Ron's Baggage Door
When I bought my airplane, I converted the original-style narrow baggage door to the full-width door. I used an piece of 1/4" oak plywood for the door..

A couple of years ago, I realized the panel could be used as a sort of "nose art" display...the baggage door was visible to anyone standing by the cockpit, and since it normally was under the cockpit cover, it didn't need to be done with weather-resistant paper or ink.

I ended up making a new door...this one a sandwich of 1/8" plywood and 1/8" Lexan. I design the artwork on the computer, then print it out on my standard ink-jet printer (using banner paper...the image needs to be about 20 inches wide by six inches high). I separate the Lexan from the front of the plywood, slip the printout inside, poke holes for the brass bolts that hold the ply and Lexan together, then bolt the unit back together. A quick cut around the edge with an Exacto knife trims off the excess, and a nice looking graphic is left.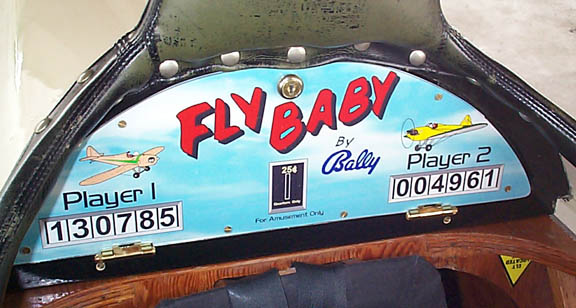 I've gotten into the habit of coming up with a new image every couple of years. This is the first one, a bogus "Pinball Machine Backplane." Some of the others:
Ken Gratton Drawings
Everybody takes pictures of building their homebuilt airplane. However, over in Australia, Mick English's friend Ken Gratton drew some sketches of the final stages of Mick's airplane. Mick took some pictures of Ken's drawing pad, and posted the pictures. What looks like smudging is just an artifact of some adjustments I made to make them a bit darker to bring out the details.