Tech Talk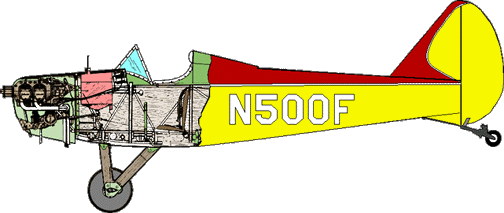 An Information Repository
Technical information to assist Fly Baby builders and maintainers.

Further assistance can be found on the Advice page.

Questions? Email Ron Wanttaja .

Return to the Fly Baby Home Page

---
Miscellaneous
Three Seats to the Wind. All about the three different seats that have graced my airplane over the past 25 years.

Replacing the Delco Generator and Regulator with a B&C Alternator.

A note about maintenance access.

All about Wind-Driven Generators
Cantilever wings on Fly Babies (don't get your hopes up).

What size of trailer do you need for a Fly Baby?

Pilot Operations Handbook (POH). That's a Word version so you can edit it and insert your own values. Here's a PDF for those who just want to look at it.
Modifying the cockpit coaming for more room.
Do-It-Yourself Ejection Seat. An "Easy Out" for older Fly Baby aviators.

Condition Inspection Checklist. The Operating Limitations for US-built Fly Babies usually require than an annual Condition Inspection be performed, to the scope and breadth of the Annual Inspection definition in Appendix D in FAR 43. The Fly Baby checklist is an edited version, with items of no applicability to Fly Babies deleted, and some Fly Baby-specific items added. This is intended to only be a guide; you (or your A&P) are responsible for properly inspecting the aircraft.

Trim and Rigging
A Skosh More Room. A simple modification that'll give you another inch of legroom.

All about wheels for the Fly Baby

A homebuilt Elevator Trim system

A Weight and Balance spreadsheet, in Microsoft Excel.
Two primary FAA manuals on aircraft construction and repair. These are primarily aimed at certified aircraft, but the workmanship and techniques shown are what should be used on experimental aircraft, as well.
The Hillbilly Swing - a less-than-standard method of swinging the compass
All Those Wires! A discussion of wing-bracing alternatives for the Fly Bay.
Shopsheets - Single-page reference sheets for the homebuilder
Rotating Fly Baby Tires to equalize wear
Wolfgang Dertnig's summary of Fly Baby plans revisions.
Drew Fidoe, on Inspection, Rebuild, and Installationfor the Maule SFSA and SFS-P8A tailwheels. PDF file, about 600K
The Maintenance Log . Reports of maintenance problems that arise over the years
Service Note on the Tailwheel Support Bracket
Spar carry-through modification . A recommended addition for both aircraft under construction and flying aircraft.
Starter misbehavior on your C-85? See the Starter Clutch page.
Load Testing. (PDF) Translation of a Finnish FAR-23 level load test on a Fly Baby
Materials List. An Excel spreadsheet with a stab at the total materials list for building a Fly Baby.
Proshold Gap Seals. Cheap and easy gap seals for the tail feathers.
Goodyear brake pad fabrication. With pads costing $250 a pop, here's a lower-cost option.
Internal antenna options. How to make radio antennas on the cheap that don't show outside the airplane.
---

Wood Information
Non-Certified Wood Testing and Selection. (PDF File). Drew Fidoe wrote this treatise on how to test wood to determine if it's sufficiently strong.
Wood as an Engineering Material - Forest Products Laboratory handbook
This Old Plane. Drew Fidoe documents the repairs and restoration of his older Fly Baby. There's a lot of good information here....
Drew's Wood Links. Drew recommends these links for those building wooden aircraft. Many of these are not aircraft sites, but give good insight into wood construction.

About Building Wood Fuselages
Aircraft Woodwork Basics
Building With Wood - Part 1
Laminating and Bending Wood
Making Wood Wing Ribs
Military Specification MIL-S-6073: Aircraft Spruce
Plywood Skinning - Part 1
Plywood Skinning - Part 2
Wood for Wings: Building with nature's composite
Wood Wings

D_Limiter's Resources. User D_limiter on Homebuiltairplanes.com posted a batch of Public Domain references on wood construction. I've reposted the PDFs here.

ANC-18, "Design of Wood Airplane Structures"
ANC-5, "Strength of Aircraft Elements"
---


Questions? Email Ron Wanttaja .